Smart Card Readers
Our range of smart card readers and cross-platform SDK easily enable you to add the proven security of smart cards to your products. Support for both desktop and mobile platforms, along with a wide range of different methods for connecting the readers to a host device, allows the deployment of smart card applications such as ID authentication, e-commerce, information security and access control.
Supported Platforms
iOS
Android
Windows
Mac OS X
Linux
Connectivity Options
Apple Lightning connector for iPhone 5, iPad 4 and iPad Air
Apple 30-pin connector for older iPhones, iPads and iPod Touch
3.5mm audio jack for mobile devices
USB for desktop PCs, laptops and USB On-The-Go mobile devices
Bluetooth
Readers for iPhone/iPod/iPad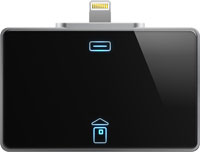 Our most popular option, our smart card readers for iOS devices facilitate user authentication, e-commerce and other secure applications on Apple's iPhone, iPad and iPod Touch.
Readers are available for devices that use both the Lightning connector and the older 30-pin connector. Every reader also includes a micro-USB port, allowing it to be used with a desktop PC, laptop or USB On-The-Go enabled mobile device.
All of our readers for iOS devices are certified to meet Apple's MFi performance and quality standards.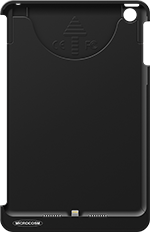 We also offer a range of MFi-certified iPad cases with built-in card readers. These innovative and stylish cases securely hold and protect the iPad without restricting access to the camera and function buttons.
Cases are available for these iPad models:
iPad Air
iPads with 30-pin connectors (2nd and 3rd generation)
iPad Mini (1st and 2nd generation)
Bluetooth Readers for Maximum Compatibility
Our Bluetooth smart card readers are the ultimate in flexibility and compatibility, offering secure, wireless connectivity with any Bluetooth-enabled system.
A micro-USB connection also allows the readers to be used with systems without Bluetooth.
Two types of bluetooth reader are available: one that supports cards with physical contact (ISO/IEC 7816-1,2,3,4), and one that supports contactless cards (ISO/IEC 14443 Type A and Type B cards).
Supported Standards
Compliant with PC/SC, CCID standards
ISO-7816-1/2/3 T=0 and T=1 protocols
ISO 7816 Class A, B and C cards
EMV Level 1
MFi Certified
Auto-PPS