Dinkey Pro/FD Prices
On this page you will find prices for Dinkey Pro/FD in US dollars. Choose another currency:
We believe our dongles offer the best possible value and, unlike most other dongle manufacturers, we are happy to publish our price list. In the unlikely event that you find a comparable dongle at a lower price, we will match the price. This price match promise does not include the cost of the SDK.
Prices listed on this page do not include taxes and shipping.
Your first order and all orders of 50 or more dongles qualify for free shipping to anywhere in the world!
Dinkey Pro/FD Software Development Kit $117.72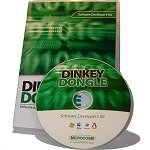 You must purchase a Dinkey Pro/FD SDK with your first order. The SDK includes all of the tools and documentation you need to lock your software with Dinkey Pro and Dinkey FD dongles.
We don't charge for support or updates - the price of the SDK covers all updates and technical support for life.
Dongles
Local Dongles
Dongles connected to a device and used to protect a single copy of your software on that device.
| Order Quantity | Pro Lite | Pro Plus | FD Lite | FD Plus |
| --- | --- | --- | --- | --- |
| 1 - 49 | $20.63 | $27.51 | $30.26 | $39.89 |
| 50 - 99 | $19.95 | $26.13 | $28.89 | $38.51 |
| 100 - 999 | $19.26 | $24.76 | $27.51 | $37.14 |
| 1000+ | $17.88 | $22.01 | $26.13 | $35.76 |
Network Dongles
Dongles connected to a network server and used to protect multiple copies of your software on the same network.
Order Quantity
Pro Net
(5 users)
Pro Net
(unlimited users)
FD Net
(5 users)
FD Net
(unlimited users)
1 - 9
$38.51
$59.15
$50.89
$71.53
10 - 49
$35.76
$55.02
$48.14
$67.40
50 - 99
$34.39
$52.27
$46.77
$64.65
100+
$33.01
$49.52
$45.39
$61.90
The Net dongle user limits are the maximum number of simultaneous users supported by the dongle. You can specify your own network user limit up to the dongle maximum when adding protection to your software. The limit you choose can also be changed at any time by sending a secure update code to your customer.
Mini Case +$2.75 per dongle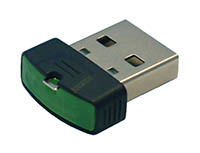 The Dinkey Pro prices quoted above refer to dongles with the standard case. The mini case option (pictured right) is available for an additional charge of $2.75 per dongle.
Mini Pro dongles are ideal for use with laptops and tablets where there is a risk of accidental damage to a dongle protruding from a USB port, and in embedded systems where space is at a premium.
The mini case option is available for all models of Dinkey Pro dongle. Dinkey FD dongles are not available in the mini case.
Custom Dongle Serial Numbers +10% of dongle price
Every Dinkey Pro and Dinkey FD dongle is preprogrammed with a unique serial number, which can be read by the SDK utilities and by your protected software.
In special cases you may want to specify the serial numbers of your dongles. For example, if you are using Dinkey Pro/FD to replace an existing protection system where each customer already has a unique ID, it's possible to order dongles with serial numbers to match these existing IDs.
There is a charge of 10% of the price of the dongle to customise its serial number. You can specify the serial numbers that you want when placing an order.