Dinkey Pro/FD: new features and improved hardware
Dinkey Pro/FD: new features and improved hardware
We are very pleased to announce a number of recent improvements to Dinkey Pro/FD, both in hardware and software. In particular, the latest release of the Dinkey Pro/FD SDK—version 7.2—introduces some great new functionality requested by many of our customers using Mac OS X and Linux.
For a full list of changes to Dinkey Pro/FD, see the Dinkey Pro/FD version history.
Increased Support For macOS and Linux
DinkeyAdd and DinkeyRemote are now available for macOS (Mac OS X) and Linux. This greatly improves the workflow for customers who only develop for macOS and/or Linux, as it is no longer necessary to copy your software to a Windows PC to add protection to it. This support also allows you to integrate the functionality that these tools provide—programming dongles, protecting software and generating secure update codes—into your own software on these platforms. Read on for more information about this.
DinkeyAdd and DinkeyRemote for macOS and Linux are not currently available as GUI programs. macOS GUI versions of these tools are in development, and will be available in a future release of the Dinkey Pro/FD SDK.
Greater Flexibility And Control Over Adding and Updating Protection
Coinciding with the new command-line versions for macOS and Linux, DinkeyAdd and DinkeyRemote are now also available as command-line Windows programs. These programs provide a much improved alternative to the old method of calling the DinkeyAdd and DinkeyRemote Windows GUI applications with command-line options, allowing greater control over the automation of these tools as part of building and protecting your software.
To provide even more flexibility in the way you use these tools, DinkeyAdd and DinkeyRemote are also available as API libraries for all three supported platforms. Using these new APIs provides a powerful and flexible way to integrate the functionality of these tools into other software, such as programming dongles or generating secure update codes directly from an order management system used by your sales team.
For detailed technical information about these changes to DinkeyAdd and DinkeyRemote, check out these update notes.
Protecting Data As Well As Software
Version 7.1 introduced new functionality to the Shell protection method, allowing you to copy-protect data files used by your Shell-protected software. Files are encrypted using DinkeyAdd, and at runtime when your Shell-protected software reads one of these files, it will automatically decrypt it in memory and then use it as normal—of course, only if a valid dongle for your protected software is present. This new functionality allows you to protect media such as photos and audio used by your software, as well as configuration files, and any other data used by your software that you want to prevent users from copying without permission. See the SDK user manual for more information about using this feature.
Our PDF protection solution has also been updated to allow users to search for text in your protected documents.
Dinkey FD Hardware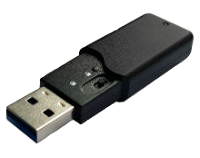 Dinkey FD Lite dongles have a new design. The new case, which replaces the previous design, is much more robust, providing greater protection against attempted tampering and accidental damage. The new design also introduces USB3 support for Dinkey FD Lite, allowing much faster data transfer to and from the dongle's flash drive.
The flash drive part of all models of Dinkey FD dongle is now 8GB.
Visit our online store to order Dinkey FD dongles
DinkeyWeb
DinkeyWeb has been superseded by SmartSign, and so DinkeyWeb-related files are no longer included in the Dinkey Pro/FD SDK. SmartSign is built on the latest industry standards for encryption and authentication, and supports a wide range of different authentication methods and devices, including Dinkey Pro and FD dongles. It does not require any Adobe Flash® content or Java® applets to be embedded in your content, and is supported by all major web browsers out-of-the-box. Try a free demo of SmartSign now and we are confident that you will quickly see its advantages over DinkeyWeb.
Existing users of DinkeyWeb do not need to worry. DinkeyWeb's authentication servers will remain live, and continue to serve existing users of applications that use DinkeyWeb. Our support team will continue to provide help and support for DinkeyWeb-related problems. As with all software updates and technical support for Dinkey Pro/FD, this will continue to be provided absolutely free of charge.
Your Feedback
These improvements could not have happened without your input, and we'd loved to hear what you think about them. To send us feedback about the recent changes to Dinkey Pro/FD, or to discuss what new features and functionality you'd like to see in future releases, please get in touch.