The Customer Experience
It is very important that your customers are comfortable with the copy protection system. It is their first contact with your software. The last thing you want is for them to have any hassle with it.
CopyMinder is highly configurable so you can control the customer experience. Default dialogs are provided but you can provide your own user interface if you prefer.
By default, CopyMinder prompts the user for the type of installation they require: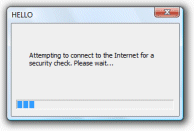 Standard - simple licence key-based activation either via the Internet or manually, you decide.

Trial - you can allow people to trial your software by enabling this installation type.

Network - this allows the installation to be used on a network on which the CopyMinder Network Server controls licensing.
Which of these types is available to the customer is up to you. You can also control whether the installation must be activated via the Internet or via a manually-entered activation code, or you can let the user decide. You are in control.
Subsequent runs of your software require no further action on the part of your customer unless an expiry condition is met.
The great thing about CopyMinder is that it can cope with hardware changes without the customer having to contact you. It notes that the software is on a different machine and just makes sure that it is not still being used on the other machine. No hassle for them. No hassle for you. A happy customer.